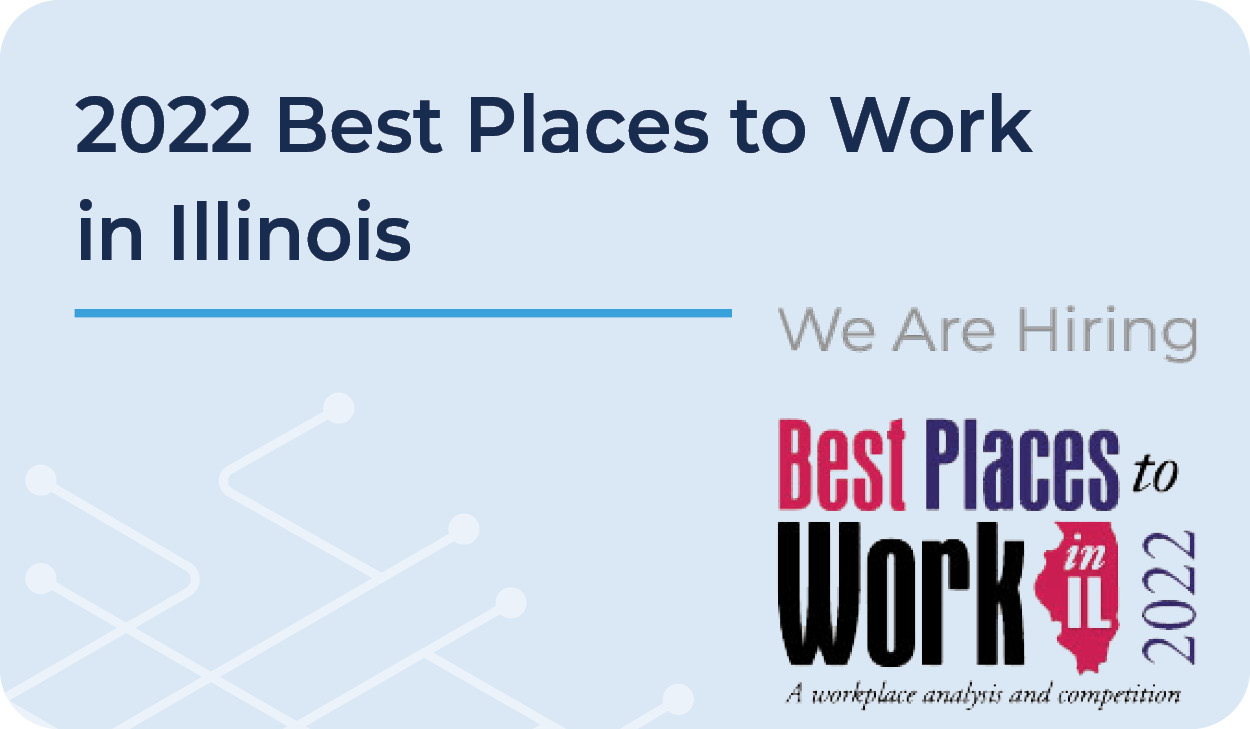 April 12, 2022
2022 Best Places to Work in Illinois
Chicago, Illinois, April 12, 2022 – Andromeda Technology Solutions is very honored to be named as one of the 2022 Best Places to Work in Illinois. This statewide program was designed to identify, recognize and honor the best places of employment in Illinois, benefiting the state's economy, workforce and businesses.
The awards program began in 2006 and is promoted by The Daily Herald Suburban Business. Andromeda has been named one of the Best Places to Work in Illinois in the (small/medium/large) category.
Companies from across the state entered the two-part process to determine the Best Places to Work in Illinois. The first part consisted of evaluating each nominated company's workplace policies, practices, and demographics. This part of the process was worth approximately 25% of the total evaluation. The second part consisted of an employee survey to measure the employee experience. This part of the process was worth approximately 75% of the total evaluation. The combined scores determined the top companies and the final ranking. Best Companies Group managed the overall registration and survey process in Illinois and also analyzed the data and used their expertise to determine the final rankings.
Andromeda encouraged all of their employees to complete the required survey and to be completely honest and up-front. Their goal for this project was to find out if there were any areas they fell short or prevented job satisfaction. Jeff Borello, CEO and President of Andromeda, says "It is such an honor for our entire organization to receive this award. We have spent the last several years with an intense focus on our company culture, and I feel it has really paid off and culminated in this win. This was our first year applying and we are hopeful that it is the start of a very long streak." The most important aspects of Andromeda, as a managed service provider (MSP), is client satisfaction and company culture. Our current client reviews show we are meeting goal 1 with a rating of 4.7 stars out of 5. Now, this new award reveals that we have achieved goal 2. Andromeda understands that their company is nothing without the dedication and commitment of the team.
Andromeda will be recognized and honored at the Best Places to Work in Illinois awards luncheon on Wednesday, May 11. The final rankings can be viewed on the Daily Herald Suburban Business website after that date.
About Andromeda Technology Solutions
Andromeda Technology Solutions provides technology support for businesses with Managed IT Services, Building Security Solutions (Security Cameras, Access Control, Burglar Systems), Telephone Solutions, and Web Design. Servicing Greater Chicagoland, Northwest Indiana, and Greater Milwaukee in Wisconsin. Established in 1994, Andromeda strives to achieve their core purpose via their mission, "our passion is serving others so they can succeed and achieve their passion."
For more information, visit www.WeNetwork.com. For media inquiries, please contact our team at Info@WeNetwork.com.
For more information on the Best Places to Work in Illinois program, visit www.BestPlacestoWorkinIL.com.