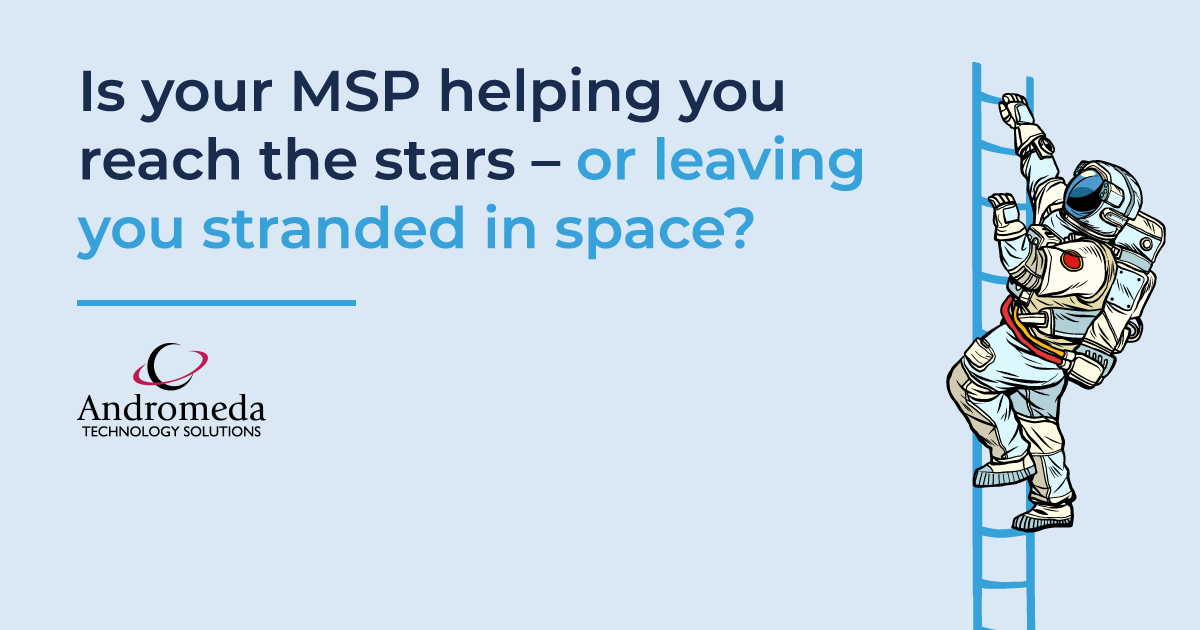 August 23, 2022
Is Your MSP the Right Fit For Your Business?
The right managed service provider (MSP) should help your business reach the stars – not leave you stranded in space. Ensuring your MSP meets all your needs is key for getting the most value out of your relationship and growing your business. Here are five questions you should ask to determine if your current MSP is the right fit:
#1. Does Your MSP Deliver the Latest IT Solutions?
Because technology is always evolving, knowing how to invest in the latest IT solutions can feel like a lost cause without expert guidance. If you're falling behind with outdated technology, it might be time to reexamine your relationship with your MSP.
The right MSP will help your business access the latest cutting-edge technology solutions to help you stay lightyears ahead of the competition. Plus, they'll handle installation and implementation so that your on-site staff is free to focus on other tasks that keep your business running efficiently.
#2. Is Your MSP Easy to Work With?
If you're finding that your team has difficulty getting the support they need from your MSP, you might face even more compatibility issues down the line. Your IT provider should offer expert service, but more importantly, they should be easy to work with.
Not knowing who you should contact or how long it will take to hear back from them can lead to frustrated employees and customers. Save yourself time, energy, and headaches by finding a low-friction, responsive MSP for your IT needs.
#3. Does Your MSP Offer Proactive Support?
Rather than offering reactive break/fix service, a good MSP will help your company adopt a proactive approach to maintaining your network infrastructure – and work with your in-house team to provide the extra IT coverage they need. If your current MSP isn't fixing issues the first time or monitoring your network to ensure you always have reliable connectivity, it's likely time to move on.
#4. Does Your MSP Help You Plan for the Future?
For many businesses, staying on top of current technology demands is difficult enough without taking time to plan for the future as well. Your MSP should not only support and optimize your existing IT solutions but also help you future-proof your systems.
The right MSP will be able to advise you on which solutions actually help your business grow – and which aren't worth wasting your money on – so that you're never stuck preparing for a crash landing.
#5. Do You Rarely Encounter Service Issues With Your MSP?
Your MSP should make life easier for your staff, not leave them putting out fires or dealing with technical tasks they're not qualified to handle. If you frequently encounter service issues and unresolved support tickets with your current MSP, it's a sure sign that they won't be able to meet your needs consistently.
Get Out-of-This-World IT Support and Services From Andromeda
If it sounds like your current MSP isn't getting your business where you need to be, Andromeda is here to help. We've delivered secure, scalable IT solutions for over 27 years, backed by a passion for helping businesses succeed. We're network infrastructure specialists that take a proactive – not reactive – approach to combating your IT challenges, and we don't stop until the job is done right.
Contact us today to learn how our out-of-this-world managed IT services deliver the support you need to focus on growing your business.