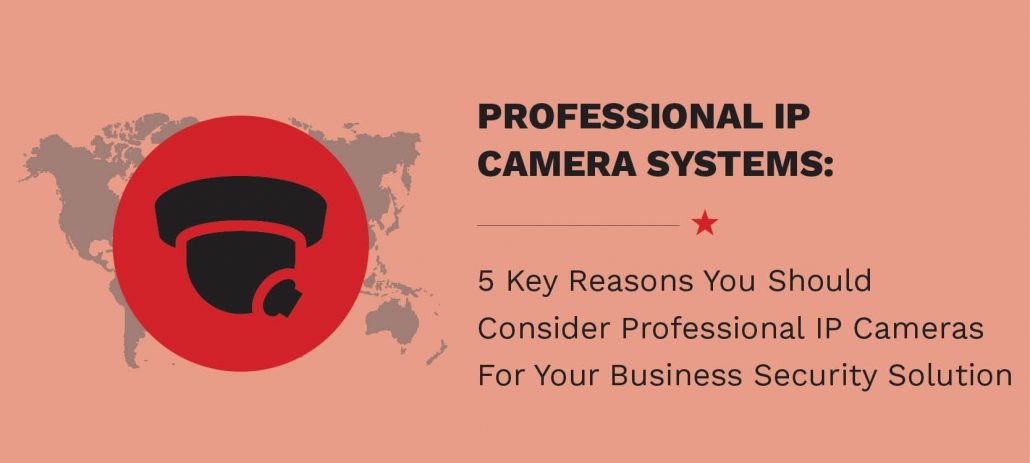 October 9, 2020
5 Key Reasons You Should Consider Professional IP Cameras
When it comes to professional security cameras there are two main categories: IP Cameras and Digital/Analog Cameras.
Without diving too deep into the differences/similarities, the main difference between these two types of systems resides in how they transmit data or footage.
Professional IP Cameras use your network
Analog or Digital Cameras use coax cable (there are wireless exceptions)
Which system you choose is largely based upon your desired outcomes, budget and the vendor you work with.
Traditionally, IP camera solutions came in many times higher in price than other analog solutions so for many business owners and professionals, analog was the way to go.
Analog systems are professional, dependable and a great option for most circumstances but as time has gone on, IP options have come a long way and are now getting much more attention across the integrated security market for many reasons.
If you are considering adding a new camera system or if it is time to upgrade/update your existing system, IP Camera Solutions might be something to consider.
Here are 5 key reasons you should consider Professional IP Cameras for your business:
1. Integration Capabilities
Moving any of your technology onto your network is going to open up possibilities for integration. Professional IP cameras can easily integrate with different viewing software, video analytic programs, cloud backup solutions and more.
You'll want to make sure that the solution you choose is compatible with the software you want to implement. Look for open source solutions that are designed with integration in mind.
2. Enhanced Security
It sounds kind of redundant to discuss a more secure security solution but IP Camera Systems do offer some more robust security capabilities. An IP based camera system transmits information across your network which means that you can add security measures like encryption to make sure that nobody taps in to your camera feeds. Although not a regular issue, analog cameras pass their feed over physical coax cables and a criminal or wrongdoer with the right equipment can tap into your feed and view your recordings. There are also no physical tapes available to steal with an IP camera solution.
While professional IP cameras and their footage can be encrypted, these cameras are an active item on your network and bring some new security concerns to your environment as well. Be sure to work with a technology professional who knows how to properly configure your firewall and other hardware to make sure you aren't leaving any opportunities open for cyber criminals to do damage.
3. Scalability
IP Camera Systems have great scalability options built in. While both Analog and IP camera solutions have storage and capacity constraints, IP recorders are easily scaled. In terms of storage, an IP solution can store footage (data) on a server, computer, backup hard drive and many other options. It is also important to note that IP solutions can easily be connected to cloud applications for both footage backups and unlimited space.
That means that even if something were to happen to the physical hardware, you have the option to secure your footage in the cloud where it can be safely and securely held until you need it.
4. Higher Resolution Options
Professional IP Cameras and Analog Cameras both have high resolutions options but IP camera solutions can offer cameras with up to 20x higher resolution.
Additionally, with enhanced viewing software and integrated applications, IP footage can be further improved, edited and modified for different purposes.
5. Remote Access & Support
When it comes to remote support or access, having technology connected to your network makes things much easier and portable. You can easily check footage with remote viewing software on your smartphone, tablet or PC.
With your cameras on the network it is also easier for your service company to get in and troubleshoot common errors remotely. This saves you from paying for a technician to visit your site.
These systems also benefit from regular software updates and patches which can easily be downloaded and installed by remote support.
There are many other benefits to professional IP cameras and getting your security systems integrated into your network. As mentioned, you open up cloud options, enhanced security, scalability and more. These cameras are also easier to install and manage on average.
The biggest drawback to IP cameras historically resided in their up front costs but over the last five years manufacturers have worked hard to create products with more competitive pricing.
It should absolutely be mentioned that most of these capabilities or functions are available for digital cameras and analog camera systems. It might just take a little more work from your technology partner to get things set up for you.
That is why you absolutely must make sure that you work with a security vendor that can assess your business and your needs before pushing you into a specific security solution.
Andromeda offers service, consulting and installation of both Professional IP Cameras and Digital Cameras.
If you are considering a new camera system, upgrading your current system or adding to it – please give us a call at (815) 836-0030 or send us an email at Contact@WeNetwork.com.
Like many other technologies on your network, an IP camera system opens the door for some enhanced remote support and service options.
Keep your business safe, secure, and running
We'll Take A Proactive Approach To Your Business IT And Building Security – And Help Your Business Blast Off.