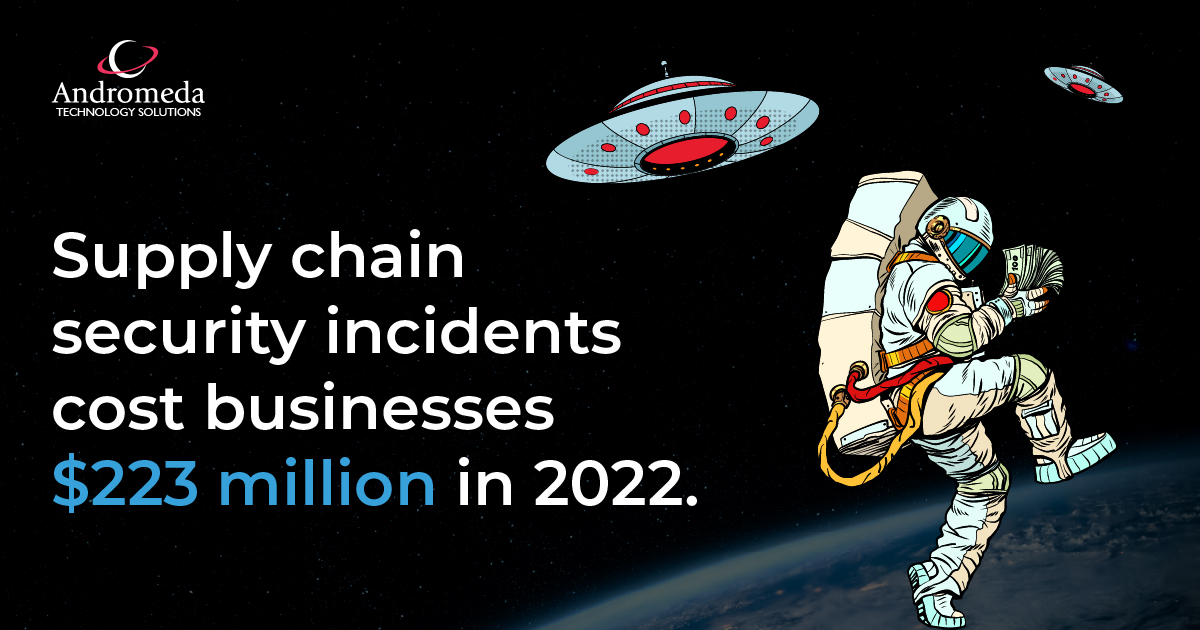 May 25, 2023
Physical Security Solutions for the Supply Chain: A Complete Guide
Attacks targeting supply chains are on the rise. Supply chain security incidents rose by 15% in 2022, losing businesses in the U.S. and Canada a total of $223 million.[1] And with 62% of companies experiencing a supply chain attack during the past year,[2] it's clear that today's businesses need to prioritize strengthening their security posture.
Any disruption to the supply chain can introduce long-lasting financial and reputational consequences. In this blog, we're exploring the importance of physical security in manufacturing, distribution, logistics, and transportation organizations and how you can defend your supply chain from attacks.
Common Types of Supply Chain Security Risks
Understanding potential supply chain risks is essential for implementing the most appropriate security measures. Here are some of the most common types of security issues for supply chains:
Cyber Security Threats
Supply chains are becoming increasingly digital, making cyber security threats like malware, ransomware, and data breaches a pressing concern. Cyber criminals tend to target the weakest link in a company's network infrastructure to steal data, disrupt operations, and gain control over the logistics processes.
Supply chain cyber security and physical security are intertwined since vulnerabilities in one area can directly impact the other. If an intruder gains physical access to an organization's IT infrastructure, they may be able to tamper with or steal data, install malicious devices, or disrupt network connectivity. By protecting your networking equipment, physical security systems contribute to the cyber security of your supply chain.
Third-Party Vendors
Supply chain security is closely linked to the security practices of your third-party suppliers and partners. Poorly managed vendors, inadequate quality control, or insufficient security measures in their operations can introduce vulnerabilities in yours.
Third-party vendors often have access to sensitive information or restricted areas within the supply chain to perform their services effectively. This access introduces the risk of misuse or theft of data or assets and also makes them a potential target for malicious parties.
Theft and Pilferage
Theft can occur at any point within the supply chain, including warehouses, distribution centers, transportation vehicles, and even during loading and unloading. Employees and external parties alike can engage in theft or pilferage, leading to a loss of assets, operational disruption, and compromised product integrity.
Theft incidents can also harm the reputation of your organization. Customers typically lose confidence in a brand if they perceive a lack of security, and negative publicity can have long-term consequences for customer loyalty and market share.
Security Regulations
Security regulations help organizations adopt and maintain effective security practices throughout the supply chain. Failing to follow regulations can result in reputational damage, legal consequences, and operational disruptions.
Some industries have specific security regulations tailored to their risk profiles. For example, the transportation and logistics industry may have cargo security, transport, and supply chain resilience regulations. By complying with industry-specific regulations, you can ensure your security measures are aligned with the specific needs and challenges of the industry.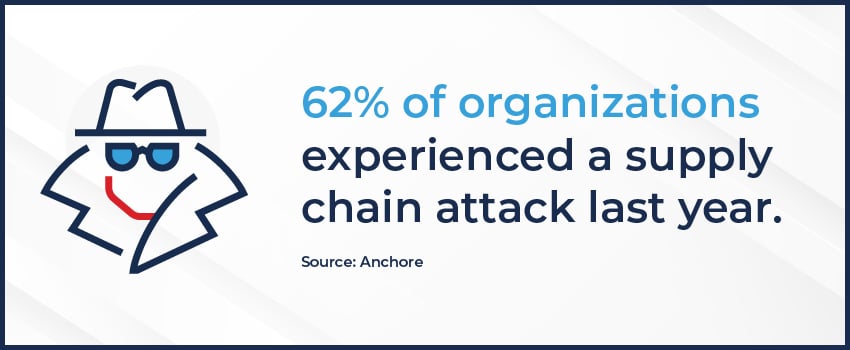 Physical Security Solutions for Supply Chains
Investing in reliable perimeter security solutions is a must to keep your supply chain and staff safe from would-be attackers. Security measures encompass a wide range of technologies designed to protect your assets, facilities, and personnel within the supply chain.
Popular physical security solutions for organizations include:
Access Control Systems
A secure supply chain starts with secure buildings. While traditional lock-and-key solutions are susceptible to vulnerabilities such as lost keys, modern access control systems provide a higher level of security by eliminating these risks.
Keyless access control systems use authentication methods like key cards, biometric readers, or PIN codes to prevent unauthorized personnel from entering restricted areas. In case of loss or theft, security staff can easily revoke access credentials to reduce the risk of theft and protect your employees from physical attacks.
Access control systems can also integrate with other services, such as surveillance cameras and alarm systems, for a more comprehensive approach to security. And with remote access management capabilities, authorized personnel gain the ability to manage permissions, monitor incidents, and control entry from anywhere using a mobile device.
Security Cameras
Protecting your supply chain requires complete visibility – not just outside your facility, but anywhere there's potential for a safety incident. Security cameras provide real-time monitoring of all activities within your facilities, including warehouses, storage areas, and parking lots. Security staff can observe multiple areas at once, identify suspicious behavior, and quickly respond to threats.
The presence of security cameras alone may deter potential intruders in many cases. Knowing their actions are being recorded can discourage activities that might harm your supply chain, reducing the likelihood of security incidents occurring in the first place.
Monitoring systems are also important for incident response and emergency management. In an emergency, such as an intruder or a natural disaster, security personnel can monitor the cameras to coordinate response efforts and ensure the safety of your staff.
Screening Technology
Screening technologies like IP intercom systems allow security personnel to easily communicate with visitors, confirm their credentials, and determine the purpose of their visit. Intercoms can be integrated with access control systems to enhance overall site security and prevent unauthorized individuals from gaining entry.
Modern intercom systems also include video and provide more features than outdated analog alternatives. This means your security staff can see and communicate with individuals in specific areas to issue verbal warnings, provide assistance, or request additional information.
Perimeter Security Alarms
Alarm systems provide immediate alerts in the event of a security breach. A perimeter security alarm system works by strategically placing sensors, such as motion detectors, door/window contacts, or glass break detectors, to detect suspicious activity. When a breach is detected, the system triggers an audible alarm and notifies security personnel.
Quick threat responses minimize the potential for further damage, theft, or compromise of your supply chain. And because organizations can integrate alarm systems with surveillance systems, you can gain real-time video footage of breached areas. This integration allows security personnel to visually assess the situation and make a better-informed decision about how to respond.
Modern alarm systems can also include monitoring sensors to detect and alert for fire, smoke, extreme temperature, or water leaks. These sensors help mitigate the risks associated with environmental hazards and help to ensure business continuity within the supply chain.

Best Practices for Securing Supply Chains
Supply chain security best practices involve a combination of policies, procedures, and technologies to safeguard your organization. Key best practices to improve your supply chain security include:
Conduct a Risk Assessment
Start by conducting a risk assessment to identify any potential vulnerabilities within your supply chain. Be sure to evaluate factors such as physical security, cyber security, and supplier security, and prioritize mitigating the threats that could make the biggest impact on your operations.
Establish Clear Protocols
Set clear security protocols for your teams and suppliers, including guidelines for protecting data, accessing your facility, and responding to incidents. You and your suppliers should have digital security measures such as firewalls, encryption, and multi-factor authentication in place, along with the physical security measures needed to maintain building security at all times.
Evaluate Third-Party Providers
You should conduct due diligence on all potential suppliers and partners and establish clear contractual requirements regarding meeting security protocols. Conduct regular reviews and audits to ensure continued compliance and address security concerns.
Train Employees
Employees are your biggest barrier against security incidents, and security training can help to ensure they have the knowledge needed to protect your supply chain. Educate staff on your security protocols and their role in maintaining security. Your training program should cover how to recognize and report suspicious behaviors, data protection, and proper handling of sensitive information.
Make a Contingency Plan
By developing a solid contingency plan, you can help to ensure a coordinated response to security incidents. Establish clear procedures, communication protocols, and responsibilities during incidents, and make sure to implement backup and disaster recovery tools to ensure business continuity if an incident occurs.
Update Policies Regularly
Evaluate and update your supply chain security policies by conducting audits, security assessments, and performance reviews on a regular basis. By staying on top of your strategies, you can quickly address evolving security threats and adopt new technologies or industry standards. Stay updated on security regulations and compliance requirements, and adhere to relevant security frameworks or certifications.
Keep Your Supply Chain Safe, Secure, and Running With Andromeda
An attack on your supply chain can bring operations to a standstill, put your workers at risk, and damage your company's reputation. Andromeda Technology Solutions can help you stay lightyears ahead of criminals with:
Advanced Alarm Systems - Arm, alert, and defend your building with a professional alarm system, sensor solutions, remote management, and 24/7/365 monitoring services.
Keyless Entry Solutions - Secure your facilities and staff with key fob and ID badge entry, touchless entry, cloud-based access control, and more.
Surveillance Systems - Gain visibility across your entire site, staging areas, loading docks, and parking lots with HD and 4K CCTV cameras, night vision cameras, and license plate cameras.
Integrated Security Services - Get more of your technology investments and reach security goals faster by integrating your security and IT solutions.
Talk to Andromeda today if you're ready to protect your supply chain with our out-of-this-world building security solutions.
Sources:
Keep your business safe, secure, and running
We'll Take A Proactive Approach To Your Business IT And Building Security – And Help Your Business Blast Off.