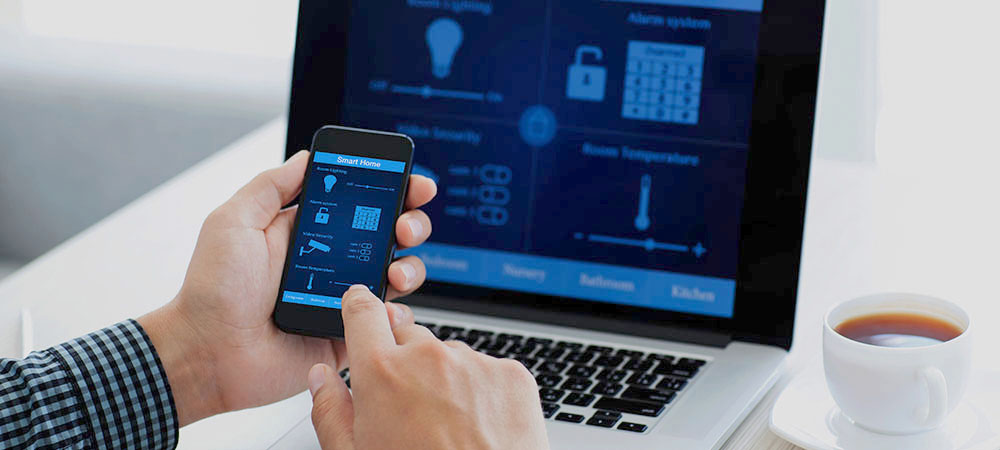 August 9, 2019
Integrated Security And Your Smartphone – Three Game Changing Features You'll Want To Implement
It's no secret that smartphones, tablets and cloud services are changing the way businesses operate in 2018. Data from Pew Research Center - 95% of adult Americans now own a cellphone of some kind and 77% of those phones are smartphones.
Of these smartphone owners, a recent study from App Annie indicates that on average, a smartphone user spends over two hours daily using apps in their phone. There are a bunch of interesting stats:
An average person has 60-90 apps installed on their device
On average a smartphone user opens at least 9 apps a day
You can look at this more in depth here.
You can use your smartphone to access documents on the go, check in with your team and collaborate on projects – so why not apply that same availability and accessibility to your integrated security?
Read on to discover three 'game changers' you can take advantage of when you connect your smartphone and integrated security.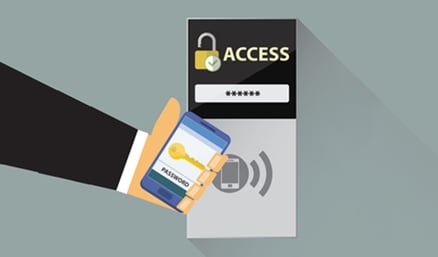 1. Smart Phone Badges for Access Control
Keyless entry is becoming more and more standard in professional buildings. It can streamline payroll, secure a building or section of a building and gives peace of mind among many other benefits. Traditionally, this technology has meant a reader at specific doors and key fobs or badges that allow/deny access once swiped. There can be issues with this though such as employees sharing key cards/fobs or losing them etc.
Within the last few years, access control systems have added the ability to scan smart phone devices for entry into buildings. With special programming and hardware the access control reader can use your smartphone just like a fob or keycard to grant or disallow access to your facility.
2. Remote Access via Smartphone for your Camera System
When it comes to cameras and recording equipment things have come a long way from recording footage to a hard copy of a tape. Recording equipment used to have restrictions on where you could view footage. Realistically, most installations involved cameras installed that hooked up to the recorder which also hooked up to a PC in a specific location. You could only view footage from that one PC.
Good thing those days are history!
CCTV Camera systems are now viewable from many different locations. You can install viewing software on your home PC, your laptop, your tablet and your smartphone. This means that when you are out of the office on business or when you want to see what's going on at the office after hours, all you have to do is pull out your smartphone and open the software app.
From there you can view footage, zoom in and check things out easily.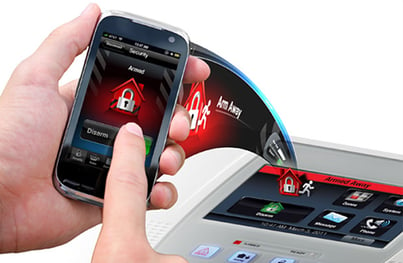 3. Remote Access & Control for Integrated Security Solutions (Access Control & Burglar)
Whether you are out of the office regularly for meetings or just gone for the evening it is stressful to wonder whether your alarm system is armed or whether someone accidentally left the back door open.
With today's integrated security solutions and remote accessibility via smartphones/tablets, you don't have to let those worries keep you up at night. You can arm and disarm your building with the touch of a button.
You can also lock and unlock doors at your facility.
When all of these features are put together you are able to see what's going on at your office from your phone. You can lock and unlock doors when needed – say if an employee needs to get in after hours. You can also arm or disarm your burglar system from anywhere.
You're basically unstoppable . . .
But really, integrated security and your smartphone are a match made in tech heaven. For more information on smartphone features and integrated security give us a call at (815) 836-0030 or send us an email. We'd love to hear from you.