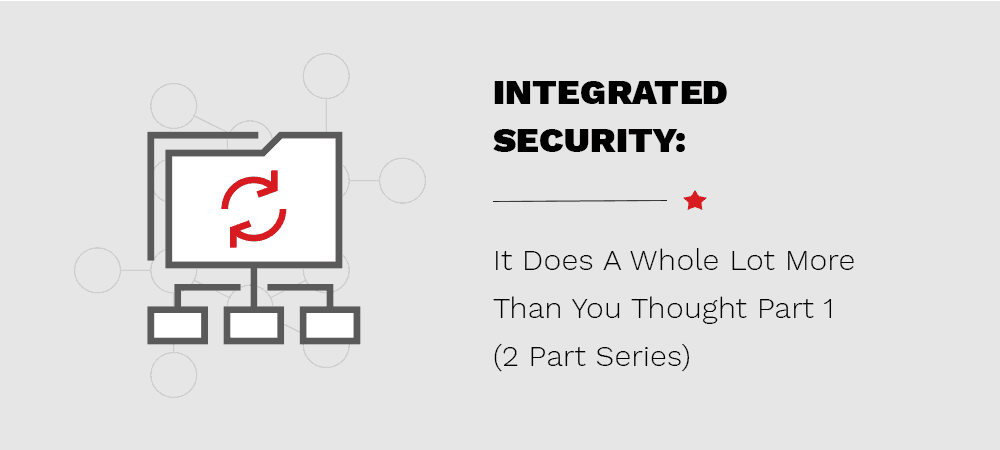 October 11, 2019
Integrated Security – It Does Much More Than You Thought Part 1 (2 Part Series)
Professional integrated security systems are important to every business. Many times, customers consider security systems as separate components:
With integrated security your solutions can work together to improve security, reduce risk and even improve productivity. That being said, we've decided to dedicate the next few Security Blogs to this topic. Thru our next blog posts, we will be covering different scenarios/features that can be maximized with integrated security solutions.
Integrated Security – It Does A Whole Lot More Than You Thought
Environment Regulation – your burglar system can be equipped with special temperature sensors that will alert you if specific areas – a server room for example – exceed or dip below assigned parameters. This can save you from a great deal of hardware trouble and headache. Imagine though that with integrated security you can take this concept to an entire office building or warehouse. With integration, you can set up your facilities to monitor activity via security cameras and configure automatic lighting, heating or cooling settings for when people are present/absent. This can reduce your utility costs greatly and is an eco-friendly option for your business.
Improved Productivity – increased productivity is something everyone benefits from both personally and professionally. Traditionally, employers depended on security cameras or time clocks to monitor productivity. This was a start but hardly a way to collect data or truly motivate staff. These days software can be integrated that monitor's user activity via the network. Keystroke logging software, web traffic logs, firewalls and other software applications can track productivity. On top of this, the data gathered show user/department trends, and any number of additional data points a company wants to gather. While some employees may grumble at the idea of close monitoring, this data can be a way for business owners to dole out promotions, bonuses and other rewards.
Visitor Management – with integrated security, visitor management for professional buildings and residential buildings is managed with software and closely monitored. No more sign in sheets, lost badges or calling up for an escort/permission (of course you can still do these things if desired). Integrated security reduces labor requirements and demands while also increasing security and protocol. A proper solution can automatically register visitors, print passes, give instructions on where to go and alert appropriate staff/persons of visitor arrival. There are even components that can be used to manage traffic flow within a facility to avoid wandering (both by foot and behind the wheel).