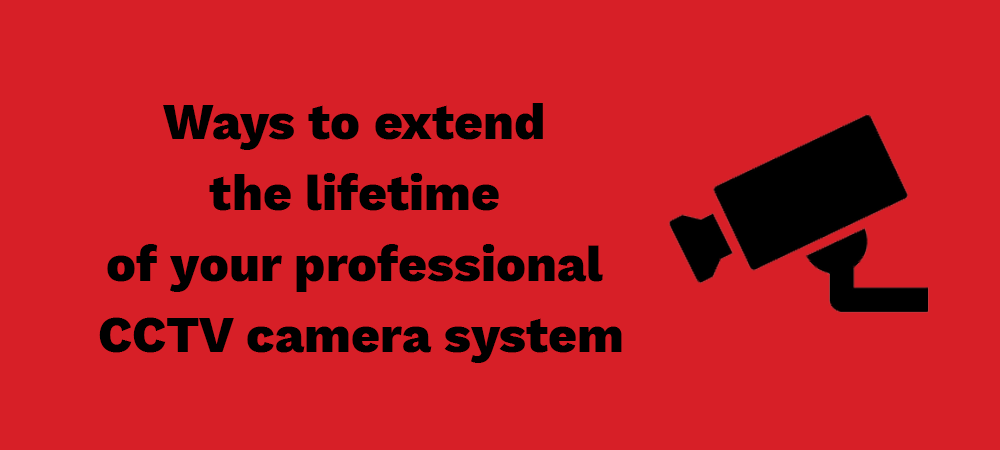 September 6, 2019
Ways to extend the lifetime of your professional CCTV camera system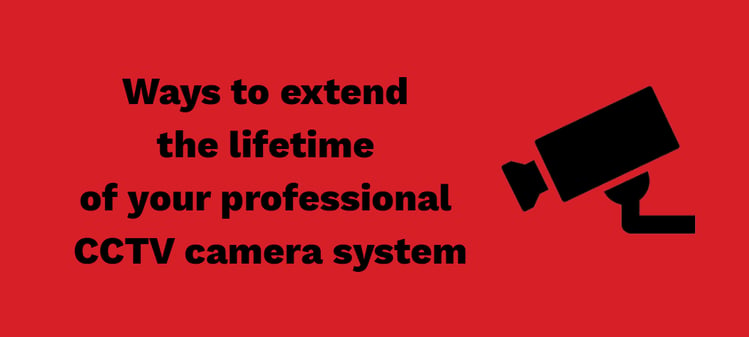 Security cameras have many uses at your business. They can be used to deter crime, monitor employees and ensure safety on your premises. Cameras can also be used as a piece of a larger integrated security solution with software add-ons (i.e. facial recognition, temperature maintenance etc.) or equipment integration such as access control with visual intercom capabilities.
As technology advances and companies look to integrate different devices cameras will be able to do even more.
All of this in mind, your CCTV professional camera system is an investment in the security of your business and you want to get your money's worth out of it.
On average, a CCTV professional camera system has a life cycle of approximately 5 years. This life cycle can be significantly shorter due to extreme weather conditions (if the cameras are outside) but new technologies are improving exposure thresholds every year.
There are many things you can do as the equipment owner to ensure that you get a long and dependable life out of your security cameras.
Here are our Top 5 Tips to Prolong the Life of Your CCTV Professional Camera System:
1. System Updates/Patches
Unless you've selected a cloud based solution, your cameras connect back to a physical recording device at your facility. Professional recording devices are becoming more like a PC or a server. They require regular updates/patches to help improve functionality, decrease bugs and resolve issues.
2. Don't Forget to Dust
Don't leave all the cleaning for a paid service. Make sure your recording equipment is dusted and well kept. Typically, the recording equipment will be mounted on a rack in an area where you keep the rest of your IT equipment (servers, routers, phone equipment and other hardware).
3. Testing Regularly for Recording Functionality
It might sound strange to be told to regularly check your footage or confirm that your cameras are working. However, when there aren't regular incidents or needs to look at footage, it can be easy to forget you even have the cameras at all. The last thing you want is for an incident to occur and realize too late that your cameras are malfunctioning or your recorder isn't working properly. We would suggest adding regular testing of your equipment to your maintenance schedule.
4. Keep Camera Lenses Clean

Just like regular testing, it is important that you check and clean your camera lenses regularly. You never know what might get on them. If you wear glasses or sunglasses, think about how often and easily they get dirty. Often times, you don't notice until you put them on. Imagine looking through your CCTV Security Camera System. Would you be able to see clearly? Additionally, make sure to clean up foliage around your cameras to avoid blocked views. It is smart to clean camera lenses at least once a quarter if not more often.
5. Semi-Annual Professional Service/Checkup
There are many small things that can happen to a CCTV professional camera system that are best left for professional technicians.
Faulty Equipment
Port Forwarding
Corrosion
Wiring Issues
System Audits (verification of views, users, permissions, updates)
We would recommend that you have a professional technician come on site at least twice a year to perform maintenance and checkups – ideally this would be from the company that installed your equipment in the first place. At this time they can handle all of the above and possibly even more.
A quality CCTV professional camera system is an investment. However, the protection and security they will provide you with are well worth the expense. If you take proper care of your system, it will service your needs for years. Additionally, it makes sense to look into service packages your vendor offers to maintain a system before you even install it. Many companies include all of these services for a reasonable monthly fee.
Give us a call and let's see what we can do to extend the life of your system today!