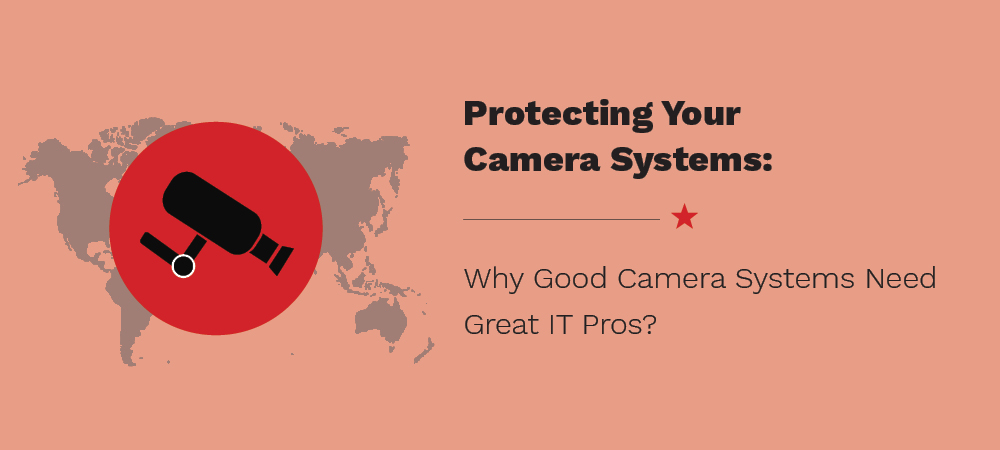 January 10, 2020
Why Good Camera Systems Need Great IT Pros

Would you be OK with a criminal or competitor watching you and your office via your own CCTV security cameras?
Didn't think so.
Security and camera systems, like many other technologies, are becoming more and more integrated within IT networks and infrastructure. This is great for ease of use, capabilities and increased protections. However, it can also open up additional avenues and risks for your company if managed incorrectly.
Imagine all the information someone could snag with limited access to your CCTV system.
You wouldn't trust your IT to "some guy" (at least we hope not). You should give the same respect to your security systems. It may be a good idea to buy a system from Costco or Amazon. But those off brand systems are easily hacked and they may carry pre-installed malware. Just last year a slew of security camera systems purchased on Amazon were found to be infected and could be hijacked by hackers to access data and camera footage illegally.
In almost all cases, some part of your security camera system needs an IT professional involved to finish the job and configure it correctly. You can either trust the camera guy as he fumbles his way around your network, potentially leaving easily accessed holes in your protection, or try to get the camera guy and your IT guy to coordinate and work together (what we call a scheduling nightmare). Or, you can hire a professional technology services firm that does both.
Why Chose Andromeda's Security Cameras?
Andromeda understands the intricate relationships security technologies have with your IT. We have specialized technicians in each area. They work together with a vast understanding of the security that both your CCTV system and your network need. Also, because we sell only professional grade hardware and software (Honeywell) the chance of a hack on these pieces is much less than the cheaper no-name brands.
Security threats are everywhere these days. You don't need to make yourself more vulnerable. Do not create a gaping hole in your enterprise via the very thing that is there to help protect you. Reach out to our team today if you are considering any security projects. We ensure that the solution you choose is right for your business needs, but most importantly, we make sure it is installed correctly and you are protected.