May 10, 2019
Camera Cloud Storage & Backup: The Add-On Feature Your Security Cameras Need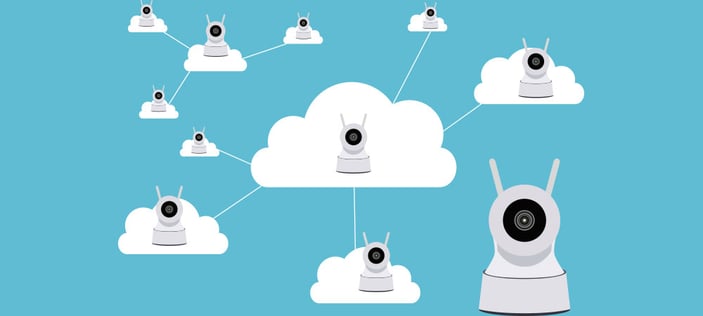 Security cameras are an important addition to any business. You spend so much time building your business, protecting it from threats is a top priority and you get that. There are many features and decisions you must consider when choosing the right system for your unique needs. Whether you choose IP cameras or high quality digital, whether you go with fixed view, 360 degree or PTZ (pan tilt zoom); these are just a few of the many decisions you will weigh while picking out your solution.
We help businesses design, install and maintain these systems every day. The system itself is important but there is one feature you should really consider adding when you invest in your business-grade system – camera cloud storage & backup.
The cloud is everywhere in business these days. It can host your servers, improve productivity via software and applications, even our phones are now being hosted in the clouds. With all this movement towards cloud solutions, it is no surprise that cameras and the way we manage them are now moving to the cloud as well.
Camera Cloud Storage & Backup for your security footage/data is scalable – even unlimited.
You installed your camera system. You are recording video footage. All cameras are capturing proper angles and views. A year goes by, the system is functioning properly and you haven't had any complaints or issues. One random weekday, an employee files a complaint that their car was damaged in your parking lot. You think, "We have cameras, this won't be an issue". Then the employee explains that this incident occurred over a month ago. You go to look through your camera footage and realize your system only retains data for up to 30 days.
No footage – Now we have a problem.
Your on premise recording device has a maximum capacity. There is no avoiding it. Sure you can add memory or change recording settings to try and squeeze more data in. However, the reality is your hardware has limits.
Enter security camera cloud storage for your camera system. With the cloud, you gain access to an unlimited amount of storage space. This means that you can save footage for days, months, years and beyond. No worries about recording over critical moments.
Camera Cloud Storage and Backup is the disaster recovery plan for your security cameras.
We spend a lot of time helping our clients prevent disaster . The same level of attention you give your network should be paid to the other technologies your business depends on. Disaster strikes in many forms: flood, fire, malware, theft etc.
Take theft for example. A clever criminal knows that it is important to either steal or destroy your recording equipment to avoid capture. If you are storing your data and footage offsite, even though the DVR or NVR is no longer functioning, you can still view the incident and maintain footage from the event in the cloud.
Problem Solved!
Camera Cloud Storage is a budget friendly option.
Recording devices are expensive. Depending on the type of recording equipment, number of cameras, desired backlog of footage . . . a recording device can easily cost you thousands of dollars. Some expenses are unavoidable. Nevertheless, if you want a hybrid system cameras or other special features, you are going to be investing a lot on the front end in hardware. BUT, there is an alternative to expensive hardware and add on features when it comes to extending the storage capabilities of your devices – the cloud.
Camera cloud storage is much more budget friendly than adding new equipment and hardware to the equation. You can purchase as much or as little as you need to get the job done and set a specific budget aside annually.
In summary, camera cloud storage and backups are a fantastic add on to your professional security system. The cloud allows for scalability, budgeting and disaster recovery.
Reach out to a representative or your account manager today to discuss how this solution may be easily implemented.