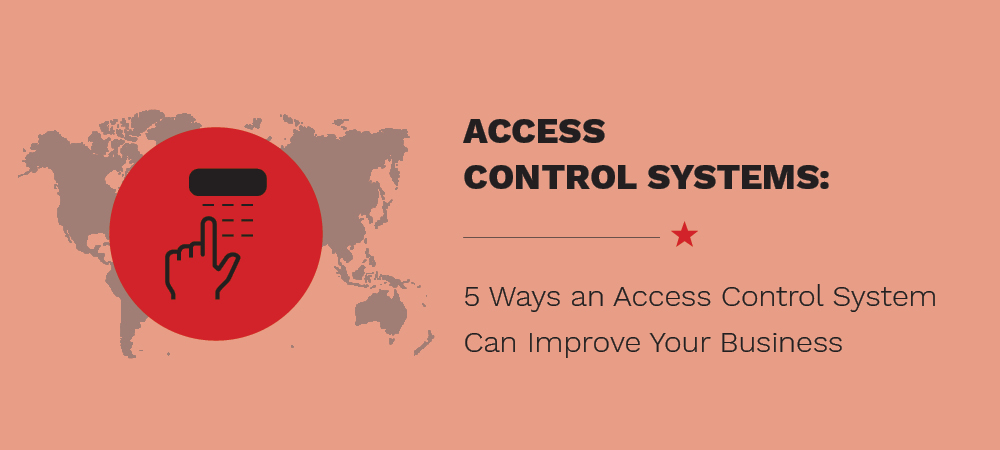 March 6, 2020
5 Ways an Access Control System Can Improve Your Business
An access control system is a great investment in the overall security of your business. It can help keep criminals out but it can also tap into advanced integration and ramp up other areas of your business.
Here are 5 of the top ways an access control system can improve security and the day to day operations at your business:
1. You have absolute control of the entrances at your building
Unlike a traditional lock and key, an access control system gives you additional control over your building.
You can control what times your doors are accessible. You can also configure different shifts and remove access from employees during hours they aren't supposed to be in your facility. Additionally, you can install a keypad with personalized pass codes so only approved staff can be on site after hours.
For businesses with sensitive areas inside their building, access control can create special zones within the building to ensure employees aren't accessing areas where they don't have clearance.
We often help businesses secure interior areas like server rooms and areas where sensitive information is present. That way, only the staff or technicians you want in those rooms can get in.
2. You can begin tracking different data as well as gather data in new ways.
Because access control systems keep logs of activity, there are many different data points available for tracking.
To build on our example from point 1 - imagine you did choose to secure your server room with access control. After adding this technology you can now produce records of how often people come and go from this room.
On top of this, you can also see exactly who is entering the server room. With this technology you can make sure that there aren't any unusual behaviors or goings on when you aren't around.
Another great tracking application of access control is employee time management. You can use these systems and even integrate software/hardware so that your entire clock in/clock out procedure is automated by swiping a card or fob upon entry of your facility.
Imagine the time you would save from switching from physical punch cards or time logs to an automated access control system! And don't worry, there are features available to make sure that your employees can't fool the system by passing back cards or clocking in for other employees.
3. Professional access control systems integrate with other hardware to produce an incredible enhanced security experience.
Access control is a great piece of added security to implement at your business. That goes without saying. But where a lot of the magic of security lives is in integrating different systems together.
For example, you can integrate your access control systems with your camera systems to make sure you have footage of all entry and exit at your facility.
You can also integrate your phone system with programming so that you can access to specific locations at your building through your phone system.
One of the most popular instances of this type of integration is centered on your main entrance.
Picture a visitor approaching your building. As this visitor walks towards your front door a camera senses movement and begins recording. Footage of this recording lives on your recorder for review at any time but with new software and integration your receptionist views a live feed of this visitor's approach from their desktop monitor.
When the visitor gets to the front door, they ring a buzzer that signals the receptionist on their telephone. An intercom at your front door allows the visitor to identify themselves.
At this point, your front desk can confirm the visitor is expected and press a button either on their phone or at their desk to release the access control locks on your front door. This allows the visitor into your building.
Pretty cool right?
4. You have protection against forgetful employees or "accidents"
We've all forgotten our keys or forgotten to lock the door at least once.
With access control you can rest easy knowing that your doors are secured. You can set your system up to alert you if an entry is made after hours as well.
**Integration Tip**
With security camera integration you can make sure that nothing strange is going on when an employee enters and exits outside of your normal business window too.
Another added bonus of your access control system comes with programming that alerts you if a door has been left open for an extended period of time. This means that a door won't accidentally be left ajar after work.
**Integration Tip**
With special programming you can set up your access control system to integrate you're your burglar system. With this integration you can program fobs to automatically disarm your alarm system after hours. You can also program your system to alert authorities immediately in specific situations if desired.
5. You get remote access/control of your system

The systems Andromeda installs for our clients have remote programming options that enhance your overall experience and capabilities.
If you want to disable a fob it is as simple as logging in and making changes on your computer. Unlike keys, you don't have to change the locks when a fob is lost or stolen. Simply deactivate the clearance for that specific fob and it will no longer unlock any doors at your building.
Remote access and control also gives you the ability to lock or unlock your facility from anywhere. If you need to let an employee in the building on a one time basis or want to give a technician access to a zone in your building, you can do so without being physically present.
This is a great tool for most business owners but really comes in handy for property managers. Imagine being able to control access remotely for tenants in the middle of the night or for a worker who needs to get in the building without having to drive across town.
These are just five different ways an access control system can improve your business. With integration there are many more options and capabilities.
If an access control system is something you are considering, please don't hesitate to call our office and reach out. We would love to help build a solution that provides all of the above features and unparalleled security for your building.
If you have any questions regarding information here or any feedback, we'd love to hear from you.
To schedule a meeting or speak with our team, please give us a call at (815) 836-0030 or email us at Contact@WeNetwork.com