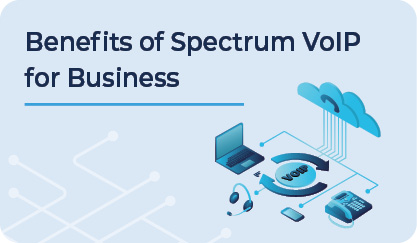 January 25, 2022
Feature / Benefits: Spectrum VoIP for Business
VoIP solutions have consistently improved since the first conversation over ARPNET back in 1974. Calls made via the internet with VoIP are higher in quality, stable, and more feature rich than ever before. These days, these calls are even integrating into our collaboration tools to add video capability and seamless integration into an employee's workday.
Of course, there are still (and may always be) businesses and scenarios that perform best with an on-prem PBX solution, but these days, there's not much hosted VoIP can't accomplish for your business and staff.
Our newest VoIP partner and solution Spectrum VoIP offers industry leading features at an all-inclusive rate that's hard to beat. Let's review a few of our Spectrum VoIP favorites –
All-Inclusive Pricing with the Everything Plan




Old-school POTS lines and on-premise services are very expensive. With a low-cost all-inclusive price, Spectrum VoIP offers you the ability to pay one monthly rate per user that covers service, equipment and all the other odd/ends you need. This makes annual budgeting simple for everyone.

Simple Microsoft Teams Integration




If you use Microsoft Teams for communication and collaboration, you'll want to consider integrating your phone solution with Teams. From an employee perspective, making and taking calls from Teams simplifies things. It means one less program to juggle between to do your job. Most features like parking, transferring, inbound/outbound dialing etc. are fully functional and Microsoft will continue investing in making their phone solution suitable for all business models. Spectrum VoIP makes this integration easy on you.

Mobile Friendly




Take phone calls on-the-go easily with the mobile app, make calls from a physical handset, or open the desktop app to use your softphone. VoIP makes it easier than ever to work remote and keep things moving from anywhere. Seamlessly transfer calls from the office to your cell phone and vice versa.

Auto-Attendant




Help callers find the right department or employee quickly with a well-organized auto-attendant program. Unlike other solutions, Spectrum VoIP is easy to manage and program as needed.

Call Recording Options




Whether for training, or quality assurance purposes, call recording can be a valuable tool for your business. Gain visibility into how your team is communicating with different call recording settings/features.
Andromeda helps businesses choose, install, and support professional phone systems. If you are looking for a phone system in greater Chicagoland, give us a call at (815) 836-0030 and a telecom expert will guide you through your options with the help of our telecom engineers. You can also use the form below to reach out to our team.